The surface resistance of pure silver elastic fabric is very low, Conductivity: 0.2Ω/CM, based on polyamide/nylon spandex, and the surface is solid metallic silver coating, which is soft, breathable, smooth and elastic. Conductive, natural antibacterial, shielding, anti-radiation and other functions.
Antibacterial Kinds: viruses infected by the respiratory tract – Covid-19, H1N1, Flu,candida albicans, staphylococcus Aureus, eschenchia coliform etc.
Improve blood circulation: Silver fiber can promote microcirculation, moisture and sweat absorption, can effectively improve blood circulation. Breathable antibacterial medical socks, kneelet, bands (For Varicose veins, diabetes,arthritis)
It can be used in electromagnetic shielding clothing, protective products for pregnant women and infants against electromagnetic waves, conductive stretch belts, medical antibacterial and electrode stimulation, muscle stimulation during fitness, antibacterial underwear, etc.
The silver coating will be oxidized after exposed to the air for a long time, resulting in discoloration. And, however, it has no effect on the conductive / shielding performance.
Antioxidant treatment can be applied to the surface to slow down the oxidation rate of the silver surface.
Care Instructions for Silver Fibers and Fabrics:
◆Hand wash
◆The water temperature should not exceed 50℃
◆Avoid direct sunlight to prevent silver from accelerating oxidation.
◆Do not use chlorine-based cleaners containing bleach or any type.
◆Do not iron.
◆Do not use a clothes dryer. Dry in the shade.
◆Avoid using in high salt or sulfurized air conditions.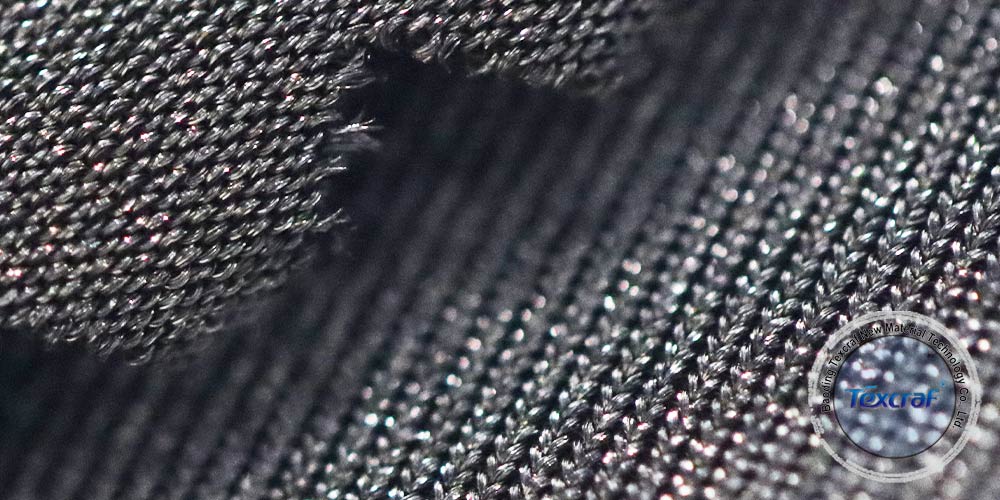 Main Applications: Perfect material for shielding, anti-radiation,smart underwear, clothing, accessories and home textiles, anti-bacterial clothing, masks, gloves and home textiles, medical products, sports, muscle gain, conductive products, anti-static products.
It has the characteristics of good air permeability, soft and skin-friendly, natural antibacterial, anti-radiation, washable, deodorant, conductive, and so on.
The best conductive/shielding fabric with antibacterial functions, with polyamide/nylon spandex base material, it's more wear resistant, stretchable, soft and comfortable. As a natural material, silver is totally healthy, environmental/green and saving.
Main Features: Extremly low resistance, shielding electromagnetic waves, anti-radiation, antibacterial, deodorant (refuse), eliminate static electricity, muscle stimulating, regulate body temperature, anti-UV, natural green, high air permeability
Anti-electromagnetic wave shielding principle:
The silver is highly conductive and has an electromagnetic shielding function. When a people wears an anti-electromagnetic wave clothing/underwear/accessories to contact an electronic device, the anti-electromagnetic wave clothing can quickly and effectively conduct electromagnetic waves, thereby protecting the body from electromagnetic waves.